I'm still alive… I go away for a few months and people start to think that Rakugakid runs this place…
So. Toaru Majutsu no Index comes to a close…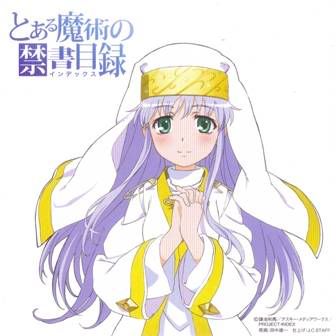 Bye bye Index…
Well, congrats to JC Staff for another series well done. The animation quality was good, ditto for the voice acting. Nothing particularly wrong overall on the technical side.
Sure, some people were a bit unhappy with the pace seeming to feel too slow, and there being not enough action. Well, face it. This is a show based off a light novel. Pulling off action scenes are pretty much pulling nice pictures out of the air. Fine, the screenwriter's imagination, but you get the idea.
What Toaru Majutsu seemed to excel at was character design and development. Solid characters are a must in any good show, but for TMnI, even the minor characters seem well fleshed out. Take Kanzaki Kaori as an example. After seeing her in the first arc, you think that's the end of her role. She's done enough as a villain for a series. Then later she comes back in the Angel Fall arc, and you learn yet more about her and her history. For leaving no generic characters in its cast list, bravo to Toaru Majutsu.
So… Let's end off with a Misaka BANG!… BANG!
Oh well, now that it's over, what to do? Wait for the next one of course. If you watched right till the very end of TMnI, you would have noticed this…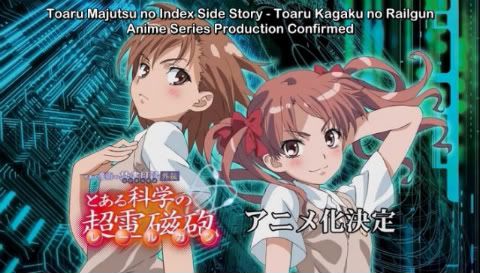 Nice eh? For those not in the know, this isn't just some side story spun up by JC Staff. Toaru Kagaku no Railgun in a comin serialized in Dengenki Daioh. There are currently two manga volumes out publised by the same company. Got a tiny front cover scan of volume two somewhere…