Author : —RDrake—
Hmmm, it's the time of the year again. The animebloggers start getting oh, so RONERY because it's Valentine's Day and they haven't gotten anyone to give them chocos… It can't be helped I guess. If they had any girlfriends to begin with, they wouldn't be blogging about anime, so…
Disclaimer : Impz is a major exception. A very well known animeblogger who actually has a girlfriend… Is it because of his trap image?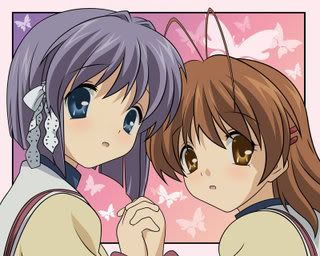 Me? Lonely? Sorry, been too busy going through CLANNAD to be lonely…
Well, anyway, for those of you interested to know out there, I did get some chocos. From my imouto… Last night. In a cup. It was melted hot chocolate, the leftovers of her attempt (successful) to make some sort of choco biscuit or something…
I managed to drink half a cup, before starting to feel sick. Turns out, normal hot chocolate is mainly water with somewhere between 10% to 50% of chocolate inside normally. My imouto's hot chocolate came from a slab of baking chocolate melted using boiling cream… After drinking the concoction, I immediatly went off to sleep.
And, yes, that's how I went through this year's 14th February…