Ok, I'm doing an extension of the post by NovaJinx. Since Nova decided that he's only reviewing a few shows, I thought I would go ahead, take his table format, and try it out on another few shows.
All in all, this season is good. Not just good as in nothing to really drag it down, but good as in lots of actually much-more-than-mediocre serieses. Admittedly I have low standards, and will watch just about anything, but there's good action, good comedy… What more could I ask for?
These are quite obviously the shows I've been watching for the past few weeks now… Well, just some of them. NovaJinx's list covers some more, and then there are still some which are not listed, such as Jigoku Shoujo Mitsuganare.
Jigoku Shoujo is doing fine in its own unique way, but as much as I like it, at the same time I don't feel good talking about it too much beacuse it makes me start to feel depressed. The whole series is just way too sad and serious.
Kannagi is doing absolute great! I'm probably going to end up marking it as the best shows of Fall08. It's the sort of thing that just seems to work well in its simplicity. Sure, it might not have the best animation (JC Staff are slowly waffling Toaru Majutsu no Index to death), or the most famous seiyuus (look where that's gotten AkaneSaka), but character design is excellent. (The manga was nice, yes :3) Also, the directing is good, the occasional parody and reference to real life works well next to a modest, everyday, feel in the storytelling. Evidently, not being too overly dramatic works too.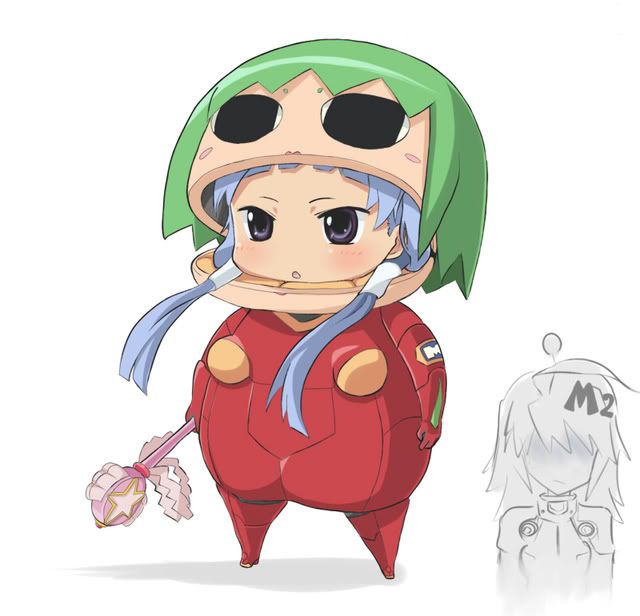 Kemeko Deluxe, Macademi Wasshoi are probably the top two comedy animes of the season. They do appear to be following the traditional harem comedy genre to a certain extent, but I don't want to lump them in the same group as Rosario and Akane-iro, thanks to the vast difference in performance. The unrestrained, slapstick comedy really hits the spot for a poor little blogger cramming for his A level exams. Also… HAADO GEI!!! in my anime? I almost burst while laughing through Macademi episode 5.
Rosario is being mediocre, same as the last season. I used to like GONZO but I'm starting to lose that. First off, it's not particularly spectacular on any front. I'm not attracted to fanservice, but it irks me to find that GONZO censored all the pantsu flashes in one of the silliest ways possible. They covered up the incrimination areas with that little bat or teddy bear. This really irks me for being so… UNREAL AND ARTIFICIAL! Is the traditional bright light and heavy fog/mist not good enough anymore that such ridiculous measures have to be taken?
Akane-iro is getting bad to the point where I'm just watching it to pass the time spent travelling on the bus. I'm not even going to waste my breath (or whatever energy equavalent typing has) bashing it…
Yozakura is also being mediocre, so I don't have much comment. But it's interesting enough in the character interaction department, so I'm keeping it on my watch list.
Hmm, looks like I'm running out of steam. Been a long time since I wrote a post like this. Ok, signing off here. Need to sleep and get ready for tomorrow's big day anyway. I'll be going downtown to AFA08 early tomorrow to meet up with the other bloggers. After that, will probably hang around until it's open to public, and will go take a look around till my friends arrive. Can't promise anything, but I'll try get pictures and reports up here. Ok, RDrake out.