Hi all. I have not posted for months now and I think everyone should have forgotten about me by now. Anyway since I am still a contributor I think I shall do a post. (Since Rdrake has been asking me to do so for about 2 months now.)

I am a manga addict

Since most people would probably wonder who this guy is, I would do a small introduction. I am just a plain normal manga addict. My hobby is to collect manga and keep them and not read them. Looking at them makes me happy… That introduction probably make me look like a dam sad person, but who cares. Since my existence is not of much importance, I shall continue on.
I see that AFA has been covered so I shall not touch on that. Anyway I don't have many pictures to contribute. I totally ignored the cosplayers there and I only took pictures of what I thought mattered.

I just started reading Air Gear
Yeah, I know its rather late to start reading Air Gear since it has been around for years. I didn't even know why did I pick it up… Probably because of the -random function from Onemanga. Anyway I got these books at S$1 per book.
It was sold at Nandemoya, which Rdrake had told me that they are having a clearance sale this morning, and it was all thanks to him that I could get my hands on such a deal even though the manga were from Chuang Yi, and since I owe him one I would do a post as I promised 2 months ago and whenever I am free from now on.

I walked to Kinokuniya after buying Air Gear
Since Nandemoya didn't have book 4 and 5 I had to get 5 from Kino, but they also did not have 4. T_T
Ouch… I just heard that Okto (?) is playing the girl who leapt through time movie. Since I have not watched television for… about… a year plus? hence I don't know what is that.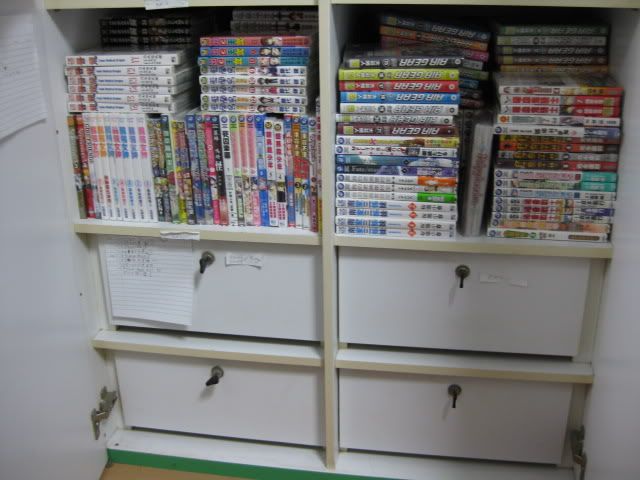 Note onscreen : All my unread manga
I don't know whether this is considered a lot or little so I shall not add on. In any case, this post is definitely shorter than the one on my own blog but I have work tomorrow and I need to watch pantsu witches which I only started today. Anyway if anyone stumbles on to my blog, don't be surprised that whatever I write here is different from what I wrote there. I don't like to do double posts as I see no point in doing so thats why I changed the content.